NEWS:
*** Anna's book "Wearables für Maker: Experimentieren, nähen, gestalten" published by Franzis Verlag is out now! It includes tutorials, tons of pictures & illustrations, and a chapter introducing outstanding international e-textile artists. Order it on Amazon!***
upcoming:
2 July: Introducing e-Textiles at COMO Lab, Innsbruck, AU
13-22 July: eTextile Summer Camp at Les Moulins de Paillard Contemporary Art Centre, FR
23 July: Panel talk at the public eTextile Summerfest, FR
---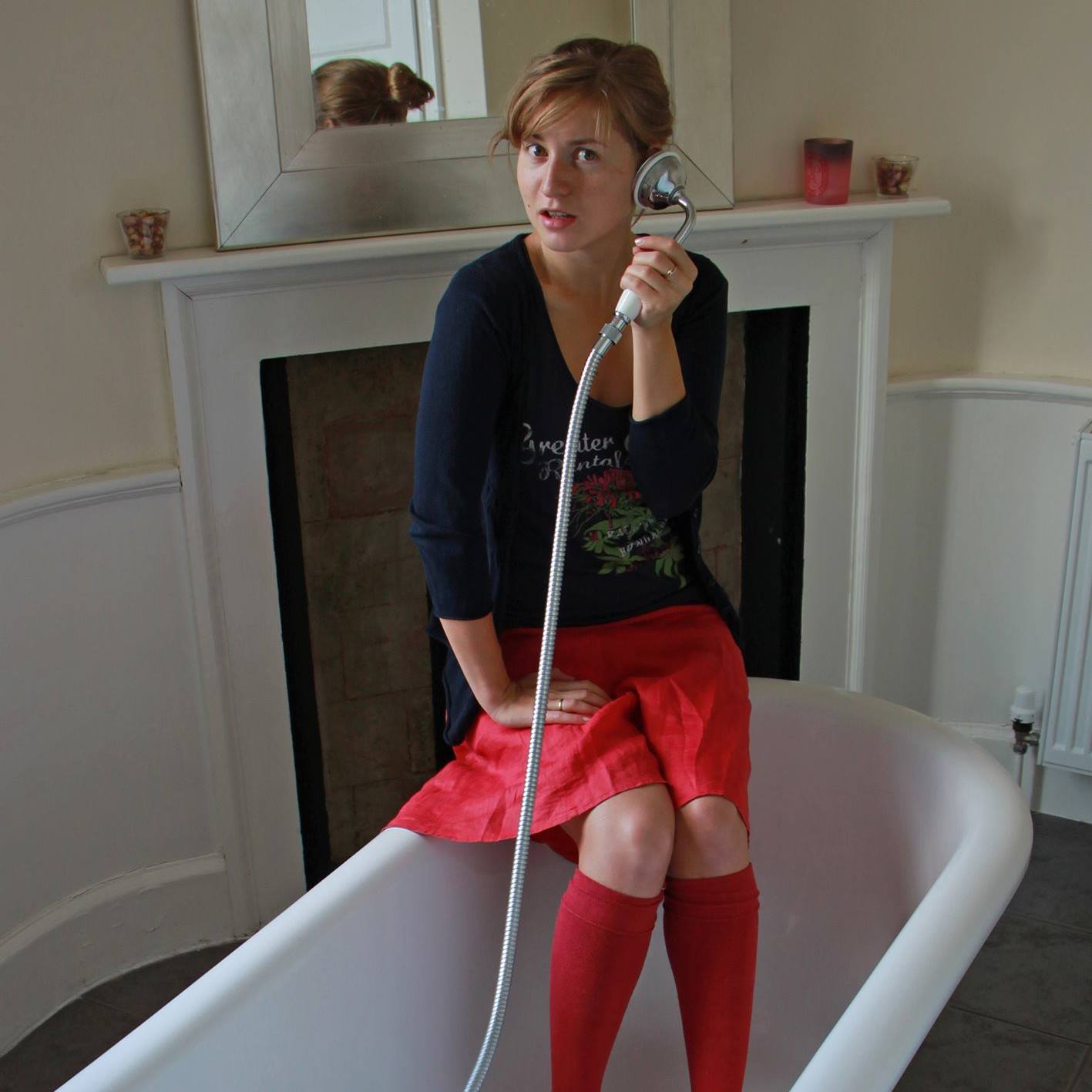 BIO:
Anna is a media artist and educator based in Munich, who works within the field of wearable technology and e-textiles, media archaeology and glitch art. Since 2012 Anna has been conceptualising and running workshops around Wearables and Creative Technologies, both for adults and children. She is a lecturer at the Ludwig-Maximilians-Universität München since 2011, and is an avid member of the Munich maker scene. In May 2016 Anna has developed and produced a DIY e-textile kit "Glow-Bots: Nähen mit LEDs" with KOSMOS publishing house. And in May 2017 her book "Wearables für Maker" has been published by Franzis Velag.
Anna has been collaborating with a range of international institutions, such as Victoria & Albert Museum and Chelsea College of Arts in London, transmediale Berlin, ars electronica Linz, The New Institute Rotterdam, Universität St. Gallen, Bayerisches Nationmuseum, Lothringer13 and PLATFORM in Munich, to name a few.
She also has a passion for illustration and has expanded the London-initiated project the "100 Word Pilgrimage" in 2014, by producing a show and an alternative Munich city tour. This project involved 26 local artists and 7 London-based artists, and was supported by Kulturreferat München.
For regular updates on recent projects and work in progress, please visit her blog.
---
VITA
EDUCATION:
2011-2012:
MA Interactive Media (distinction), Goldsmiths, University of London, UK.
2007-2010:
BA Fine Arts & Multimedia (distinction), minor subject: Media Computer Science, Ludwig-Maximilians-University Munich, GER.
---
EXHIBITIONS, WORKSHOPS AND EVENTS:
2017:
Make Munich 2017, GER
Science Fiction Festival, Munich: exhibition curated by Ronit Wolf, Einstein Kulturzentrum, Munich, GER

Leuchtarmbänder: e-textile Workshop. Elternabend Medien, invited by SIN-Studio im Netz, Munich, GER
Gautinger Internettreff: hands-on IoT. Gauting, GER

Trash or Treasure: exhibition curated by Eva Ploder, Stadtmuseum, Munich GER
2-day Lilypad Arduino course. Collaboration with Emilie Giles. Victoria & Albert Museum, London UK
Enabables – Social Wearables: BA Art & Multimedia students present their work from my LMU seminar in an open event at the FabLab Munich.
2016:
Open Air am Gärtnerplatz: public e-textile workshop, organised and run by the studens of LMU, Theatre Department. Guest-lecturer and supervisor. Munich, GER.
Hands-on Wearables Workshop at Mobile Business Forum, in cooperation with Forster Rohner, St. Gallen, Switzerland
Glow-Bot release: A soft-circuit kit for beginners, in cooperation with KOSMOS publishing house.
Interactive Media: conceptualisation and production of wearable workshops. A seminar for BA Art & Multimedia and BA Art Pedagogy students at Ludwig-Maximilians-Universität. Subsequent workshops led by students for 5th and 7th grade pupils of Nymphenburger Schulen.
Piano-Shirt. Introduction into Wearables and Lilypad Programming. Nerd Rider event series, Munich GER.
Ritter Rocken! Makey-Makey workshop at Bayerisches Nationalmuseum. Cooperation with SPIELKultur e.V. Munich GER.
Thread The Sunshine In! Make Munich fair, Munich GER.
2015:
Optimize Me – an offline SEO service. Yami Ichi – Internet Black Market at Ars Electronica, Linz, AU
Artists for Ukraine. Charity exhibition in support of victims of the war.
Music Hat. Hacking electronics at FabLab, Munich GER
Speaking bags and Blinking robots, 2-day workshop at Kulturfenster, Haidelberg GER
——— /maternity leave\ ————–
2014:
Go West. 100 Word Pilgrimage. W3 Gallery, London UK
100 Words Pilgrimage creative lab week in London
Emotiobot – Soft Circuit workshop in collaboration with eHaJo electronics. Make Munich: Maker and Hacker Festival, Munich GER
Zwangstischdecke – interactive installation. UAMO Urban Art Festival, Munich GER
100 Word Pilgrimage in Munich: production coordinator and contributing artist. Collaboration between artists from Munich and London. PLATFORM, Munich.
Antwort der Dinge: Audio-hacking workshop for children and young people. Collaboration with Stefan Wischnewski. Lothringer13_halle, Munich GER
London stories. Serco Illustration Prize Exhibition. London Transport Museum, UK.
2013:
Evil Media Distribution Centre. Transmediale Festival, Berlin GER /
The New Institute, Rotterdam NL. Production assistant and contributing artist.
Communication Amplifiers. Collaboration with rag treasure and Klaus Dietl as Knife and Needle. Aaber Award 2013, Munich.
100 Word Pilgrimage. A Journey from East to South. Hatched Galeries, London /
A Journey North. Various spot across London. With Beddow 'n' Battini Art Collective.
Straight Table Cloth (Zwangstischdecke). Kafe Kunst Fest, Kafe Kult, Munich.

A Story Behind A Photograph. Cultural Centre GOROD, Munich. Curation and production of a German-Russian media exhibition, an educational project with young immigrants in Munich.

Life is a Cabaret, Tanner Street 47-49, London, UK. Mural commission at the BBC Studios and film production set.
2012:
100 Word Pilgrimage: A journey from West to East. Tanner Street 47-49 / Hatched Galeries, London. With Beddow 'n' Battini Art Collective
Moving Forest, devised by Shu Lea Cheang. Chelsea College of Art, London, UK. Soft Circuit Graffiti based on 500 slogans by Matthew Fuller, a contribution to twelve-hour performances.
Lost Extensions. Collaboration with Time and Talents, Social Community in South London. Media archaeological workshops with groups of retired dockland workers and visually impaired. Exhibition at Laurie Grove, New Cross, London, UK.
---
PRIZES & RESIDENCIES:
2016:
Schmiede: Media Art Residency, Hallein, AU
eTextile Summercamp, Les Moulins de Paillard Contemporary Art Centre, FR
2014:
Serco Illustration Prize, London Transport Museum, UK
Funding from Kulturreferat München (Art Council) for curation and production of  the "100 Word Pilgrimage" project
2013:
AABER Awards Nomination, Munich, GER
Aurasma competition, 3d place
---
TEACHING & WORKSHOPS:
Since 2010:
Lecturer at the LMU Munich, Dep. of Art Pedagogics, Dep. of Media Computer Science:
Seminars on Wearable Technology, Participatory Interactive Media, History of Media Art, Media Theory
Since 2012:
Wearable Technology and Creative Electronics workshops & talks:
workshop production and delivery for different partners and venues. Past collaborations include: Victoria & Alebert Museum London, Bayerisches Nationalmuseum Munich, Uni St. Gallen, Lothringer13, Make Munich maker fair, FabLab Munich, Stadtbibliothek Milbertshofen, Kreisjugendring, etc.
2013 – 2016:
Interactive Media Workshops for SPIELkultur e.V.:
Conceptualisation, production and delivery of workshops for kids and young people. Teaching creative technology, basics of electronics and programming. Recent workshops include MaKey MaKey and Lego Mindstorms.