I love to share my knowledge and empower children, young people, adult women who are shy with technology and men who dread threading a needle. I love to show a way to experiment with electronics and hand-sewing, and encourage to create unique designs. I hope this way we can all get away from massive consumption and start understanding the world around us a little bit better through our handwork. This is why it is particularly important for me to run workshops for people of all kinds of cultural backgrounds and ages. Since 2012 I've produced and taught numerous workshops at museums, schools, universities, art galleries, libraries and festivals.
If you would like me to run a workshop at your venue, feel free to email me.
SOCIAL WEARABLES
BA Art & Multimedia, LMU Munich
In this seminar we explored the possibilities of wearable electronics – an exciting new field, which combines electronics and programming with traditional handcrafts and sewing. Each team of students worked on individual social projects focused on designing for the blind, elderly people or refugees. They documented their process on the seminar blog and created step-by-step tutorials, which will be published on the EXP-Tech Electronics blog. The final presentation of the projects was held at an event open to the public at the FabLab – Munich's biggest maker space.
WS 2016 – Seminar Blog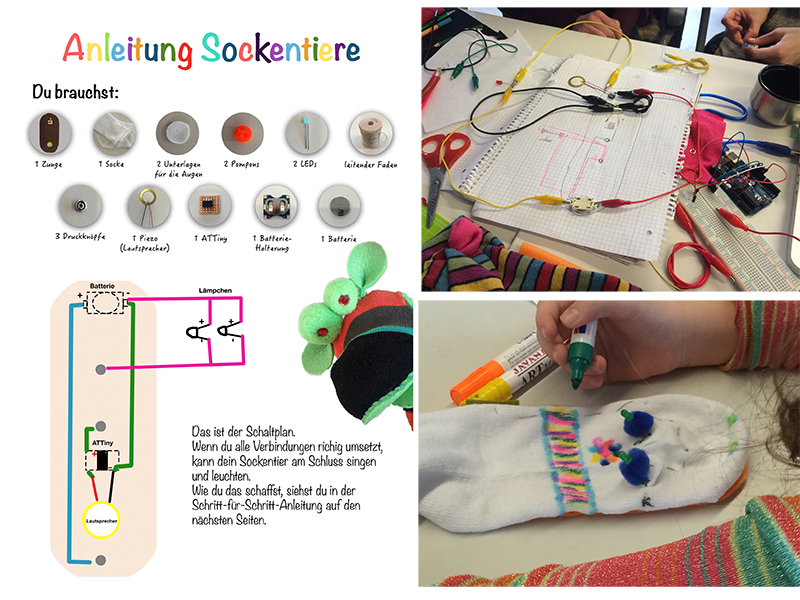 INTERACTIVE MEDIA WORKSHOP DEVELOPMENT
BA Art & Multimedia and BA Art Paedagogics, LMU Munich

In these seminars students were introduced into e-textile techniques and were taught to develop their own workshop concepts to convey creative electronics to school children, children living in disadvantaged areas or to the public during an open-air festival in the middle of the city.
SS 2016 – Gärtnerplatz Open Air
WS 2015 – Nymphenburger Schulen
WS 2014 – Nymphenburger Schulen
WS 2013 – Hasenbergl Kulturzentrum
WS 2012 – Facetten der Medienkunst

MUSEUMS & GALLERIES
Victoria & Albert Museum London, Bayerisches Nationalmuseum, London Museum of Transport, Stadtmuseum, Lothringer13, PLATFORM, etc.
MEDIA PAEDAGOGICAL INSTITUTIONS
SPIELKultur e.V., SIN – Studio im Netz, JFF Institut, KJR Oberbayern, Bundeszentrale für Politische Bildung, Deutsche Kinder- und Jugendstiftung, etc.
CONFERENCES & FESTIVALS
Zündfunk Netzkongress, Universität St. Gallen, Make Munich, Science Fiction Festival, UAMO Urban Art,