Lecturer at University of Applied Sciences Augsburg : Soft Sensors for Soft Bodies.
SS 2020 – Seminar Documentation
Guest Lecturer at Kunstuniversität Linz: Wearables for Teachers.
2019 Tagung – Documentation
Guest Lecturer at Hochschule für Design, Schwäbisch Gmünd: Wearables in the Age of Transhumanism.
2019 Sommerakademie 'newmankind' – Documentation
Lecturer at the LMU München: Social Wearables.
WS 2016 – Seminar Blog
Lecturer at the LMU München: Interactive Media: Workshop Production and Realisation.
SS 2016 – Gärtnerplatz Open Air
WS 2015 – Nymphenburger Schulen
WS 2014 – Nymphenburger Schulen
WS 2013 – Hasenbergl Kulturzentrum
WS 2012 – Facetten der Medienkunst
SOCIAL WEARABLES
BA Art & Multimedia, LMU Munich
In this seminar we explored the possibilities of wearable electronics – an exciting new field, which combines electronics and programming with traditional handcrafts and sewing. Each team of students worked on individual social projects focused on designing for the blind, elderly people or refugees. They documented their process on the seminar blog and created step-by-step tutorials, which will be published on the EXP-Tech Electronics blog. The final presentation of the projects was held at an event open to the public at the FabLab – Munich's biggest maker space.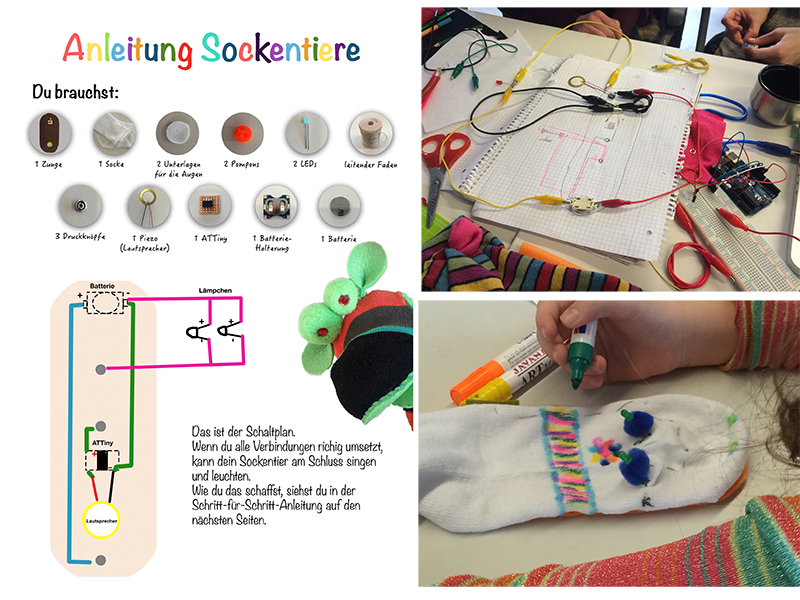 INTERACTIVE MEDIA WORKSHOP DEVELOPMENT
BA Art & Multimedia and BA Art Paedagogics, LMU Munich

In these seminars students were introduced into e-textile techniques and were taught to develop their own workshop concepts to convey creative electronics to school children, children living in disadvantaged areas or to the public during an open-air festival in the middle of the city.