RESEARCH PROJECT: Use of E-Textiles in puppet theatre. (Nov 2019 – Feb 2020)
In Cooperation with Yvonne Dicketmüller (Puppet designer and e-textile practitioner from Bochum, Germany)

MOTIVATION:
Together with Yvonne we set out to explore the new possibilities which electronic textiles could offer the puppet theatre, and how they could enrich interaction between the puppets themselves, between the puppet and the puppeteer, and between the stage elements and the audience.
GER:
In Zusammenarbeit mit Bochumer Puppenbauerin Yvonne Dicketmüller haben wir in diesem Projekt diverse Szenarien erforscht, wie der Einsatz von Smarten und elektronischen Textilien das Erlebnis im Puppentheater bereichern kann. Dabei wurden Interaktionsmöglichkeiten zwischen den Puppen selbst, zwischen dem Puppenführer und der Puppe, sowie zwischen dem Bühnenbild und dem Publikum unersucht.
Enstanden sind dabei experimentelle Ausflüge in vielfältige Techniken und Methoden der digital fabrication, smart textiles und physical computing, mit dem Ziel die künstlerischen Ausdrucksmöglichkeiten im Puppentheater zu erweitern. Dabei wurden folgende Verfahren und Techniken untersucht: Weben mit leitfähigen Fäden und Integration von Elektronik in weiche Schaltkreise, thermochromische Textilien, Lasergravur, leuchtende Kristale und
"eigenständige" Bewegung der Puppen durch die Erhitzung des Nithinoldrahts.
COLLECTING IDEAS: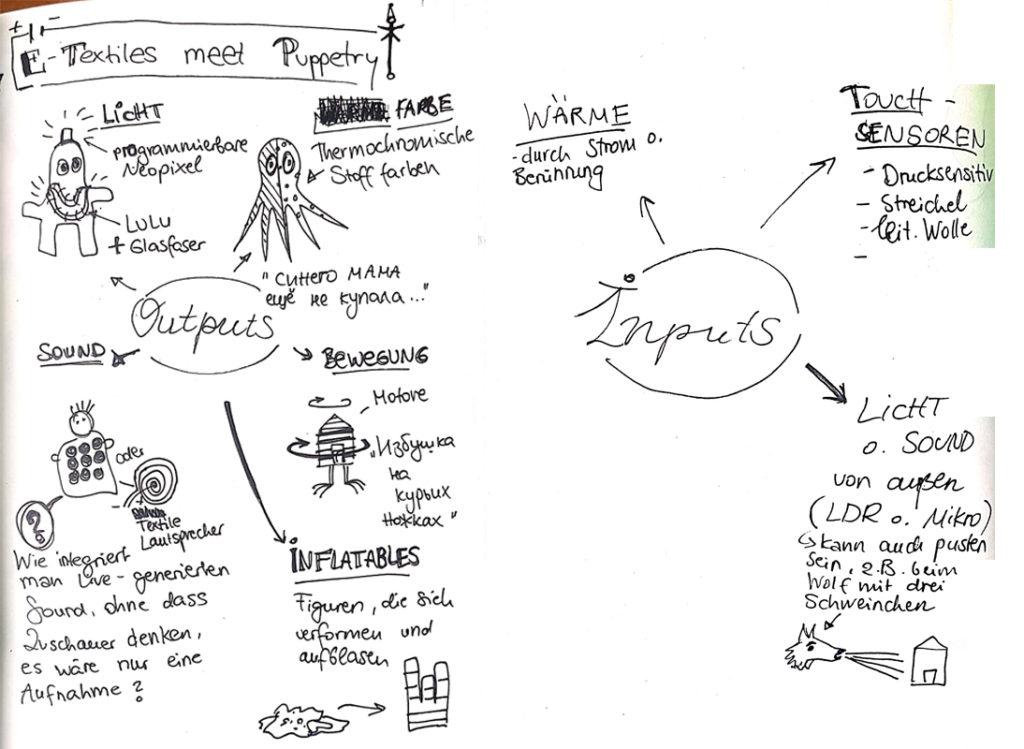 – MINDMAP
– MODES OF INTERACTION
Interaction with the puppeteer:
touch (stroke, bend, press)
blow (e.g. into the mic on a puppet)
change in colour through body heat of the puppeteer
change of the puppet throuh position change of the puppeteer oder his gestures (e.g. tilt sensor)
Interaction with the stage set:
proximity to sensors
behaviour or motion change of objects on set in dependance with the puppet (e.g. a flower turning towards a puppet)
Interaction with sound:
change in behaviour depending on change of volume (e.g. puppet lights up when it's loud in the room) – Yvonne's feedback: not gonna work for children performances, because kids are going to hack this effect and constantly shout around ;-))
Influence on sound depending on proximity of the puppet to another puppet or object.
rhythmic illumination according to rhythms of music / sounds on stage
Interaction with light:
change in behaviour depending on brightness / darkness in the room.
change in behaviour depending on the colour (on other puppet, object, or on stage, e.g. through colour sensors)
EXPERIMENTS:
Nitinol-Wire:
I set out to explore nitinol wire for its possible "invisible" effect on stage.

Instead of a puppeteer pulling threads to move the puppet, this set-up would enable electricity to literally do the same, without visible human intervention visible to the audience

. Nitinol wire (or memory wire) "memorizes" a shape and goes back to it ones it is heated. It relaxes again when it cools down.

(10 min bei 600 grad erhitzt – mit kochendem wasser getestet 9V reicht leider nicht aus. werde es morgen im Büro mit stromstation testen wo man strom und spannung aufdrehen kann-
Ich habs gestern in der werkstatt im büro probiert, und es hat funktioniert! bei 0,5A eher langsam – bei 1A flott. und es hat sich auch relativ schnell wieder auseinandergezogen nach dem ausschalten (aber nicht so schnell wie das zusammenziehen). Jetzt ist mein nächster Schritt herauszufinden, mit was für einer batterie ich es ersetzen könnte, damit mans auch auf der bühne einsetzen könnte. eine AA und eine 9V haben nicht funktioniert.)
Weaving with conductive thread and resistive yarn.
I made a frame loom with a lasercutter, taking the laser file from the wonderful research project: The Interlace Project by Tony Buckby. I used an smd led on a flat pcb (custom-made by Hannes Jochriem who runs eHaJo). The resistive yarn section works as a pressure sensor: the led changes its brightness according to resistance change in the yarn. This technique could be used for making interactive cloths for puppets. The presure-sensitive part could be activated either by the puppeteer or by the puppet itself pressing against a surface or another puppet (e.g. giving each other a tight hug).

Yvonne's research focus included experiments with growing crystals, experimenting with thermochromic paint, programming ESP, chrocheting, weaving speakers, use of nithinol wire, optical fibre, embroidery machine, and and and! Check out her website for more details!

RESEARCH SOURCES:
Muscle Wire (also Nithinol Wire or SMA):
– Kobakant: smocking techniques & muscle wire: http://thesoftcircuiteer.net/thermochromic-tests/
– https://www.kobakant.at/DIY/?p=5276 and https://www.youtube.com/watch?time_continue=4&v=7DtEfn0emAs&feature=emb_logo
– Origami moving wings von Ji Qi: http://highlowtech.org/?p=1448
– "animated" neck: http://www.gregsaul.co.uk/lookAt/paperRobots/#1
– "animated" flower: http://www.xslabs.net/work-pages/kukkia.html
– Pleating techniques by Berit Greinke: https://berlin-open-lab.org/portfolio/origami-garments/
– moving wings of a bird: https://www.youtube.com/watch?time_continue=3&v=oftnRQK-zLo&feature=emb_logo
– Oribotiks: Origami + Robotics http://experimenta.org/makesense/events/oribotics-matthew-gardiner-lrg/)
– The Culture Series by Afroditi Psarra: http://afroditipsarra.com/index.php?/on-going/the-culture-series/
– Tutorial on Make: http://blog.makezine.com/2012/01/31/skill-builder-working-with-shape-memory-alloy/
– Tutorial on Instructables: https://www.instructables.com/id/How-to-Form-Memory-Wire-Nitinol/
Crystals:
– Rachel Freire & Melissa Coleman: http://www.rachelfreire.com/etextile-crystallography
– https://www.instructables.com/id/Growing-Crystals-on-LEDs-and- Etextiles/
– EJTech: https://www.bareconductive.com/make/dark-diamond-mining-with-electric-paint/
Thermocromic paint:
– Liza Stark: http://thesoftcircuiteer.net/heating-circuits-for-thermochromic-inks and http://thesoftcircuiteer.net/thermochromic-tests/
– Marta Kisand: http://etextile-summercamp.org/swatch-exchange/layered-chromics/
– Lara Grant: http://wearablesoftinteractions.us/class-8/
– Beam at Summercamp: http://etextile-summercamp.org/2013/?p=540
– Kobakant: https://www.kobakant.at/DIY/?p=2909
Sock puppets & e-textiles:
– Kobakant's sock puppeta with touch & bend sensors: https://www.kobakant.at/DIY/?p=5539&cpage=1
– My students' sock puppets with ATtiny and Piezo & press button als switch: http://annablumenkranz.blogspot.com/2016/04/wearables-workshop-development-and.html

Movement and e-textiles:
– Kobakant: https://www.kobakant.at/DIY/?p=6662
– Embroidered Computer by Irene Posch and Ebru Kurbak with magnetic beads: http://www.ireneposch.net/the-embroidered-computer/
– Monarch by Kate Hartman: wings which unfold when biceps muscles are activated: http://socialbodylab.com/monarch-v2/